Frequently Asked Questions
Is LED light therapy safe to use?

The Therapeutic Goods Association ('TGA') safeguards and enhances the health of the community through effective and timely regulation of therapeutic goods. You can use your Professional and at home LED light therapy masks with confidence knowing that all our devices have an ARTG from the regulatory and safety body the TGA.
 What should I expect from my using my LED mask?
The treatment lasts for 20 minutes, with results mostly being felt from the first session. Treatments are relaxing and users will experience a warm rejuvenating feeling, with skin feeling and looking more hydrated and even.
Repeated use of the Aduro will help to increase the desired effect, with an increase collagen production and the bodys natural rejuvenation processes – resulting in youthful looking skin and overall improvement of skin complexion.
A course of 12 treatments is recommended, with increased usage providing better results. Combining your LED Mask with our Hydrogel Collagen masks formulated specifically for use with our Light Therapy Mask or your favourite cosmetics is recommended, for the best Aduro experience.
What functions does the Personal LED Facial mask have?
The Aduro UK Personal mask offers 11 unique treatment options that are simple and easy to use, designed specifically with the home user in mind.
Cycle through each colour wavelength for overall wellness and rejuvenation using the Daily Dose setting or use the Quick fix setting which cycles through Primary and Secondary light wavelengths for Radiant skin that offers you a collagen boost, anti-redness, anti-inflammation and wellness.
The remaining 9 treatment settings allow you to focus primarily on the skin concern at hand using 100% light energy using the colour wavelength of your choice, from 'Acne Buster' Blue light to help break the acne cycle for clear skin to 'Red Away' Yellow light known for its anti-inflammatory properties, great in the management of Redness, Eczema, Rosacea, Sunburn and Psoriasis.
For combination skin the 'Cell Rejuvenator' Violet light is a must! Combining Red and Blue Light this setting has been shown to be a great maintenance option for skin prone to breakouts while offering  healing and collagen boosting properties.
.
.
.
.
Pre/Post treatment instructions
It is important that the treated area be cleansed prior to starting any treatment session. In order to maximize your treatment, it is recommended that you drink at least 1/2 glass of water before and after all treatment sessions, practice healthy eating habits, limit sun bathing, alcohol consumption, and smoking while undergoing your series of light therapy sessions and up to six weeks following your treatment.
Most clients will continue to see a marked improvement in their skin over the 6-12 week treatment period even after your initial LED mask sessions have concluded.
As with any cosmetic treatment, individual clinical results will vary from person to person. The great thing about owning your own personal mask is that you are not limited to the number of treatments you can have each week (however we recommend 3 to 7 x 20 minutes sessions per week initially) it is easy to maintain your results (2 to 4  x 20 minute sessions thereafter) to enable you maintain your desired results. Most people require a number of 20 minute treatment sessions over several weeks with gradual results occurring over time.
*Patients who frequently use anti-inflammatory and aspirin products often require more treatments to achieve desired results.
How does light therapy work?
The Aduro facial masks use special light that is packed full of energy in the form of photons, and when shined onto the skin these photons penetrate to certain levels of body tissue.
These photons then transfer their energy into a form that the body can use called 'cellular ATP (adenosine triphosphate) energy' and increase blood flow by the signaling of Nitric Oxide.
ATP is the body's fuel for energy. The more energy we have, the more the body can use this energy for proper function, such as repair and rejuvenation.
Super-charged cells from exposure to the Aduro light masks then prompt skin fibroblasts to produce increased collagen, elastin proteins and stimulate the body's natural healing and rejuvenating processes, while increased blood flow brings in more blood and nutrients to the area.
What is the temperature; will it hurt or burn the skin?
The Aduro operates at "2°C above ambient" which is a perfect for feeling relaxed, comfortable and opening the pores to the skin. It will not burn the skin.
Is the light harmful to the eyes and body
The light can be experienced as bright. Therefore we recommend that you always and use the protective googles provided with your mask and close your eyes during each treatment.
The treatment is pain free, non-invasive, requires no surgery and is a completely safe and effective treatment for all skin types.
The light does not emit any harmful UVA or UVB rays and is not a laser, which means that users require zero downtime or recovery time after a treatment.
Light therapy is medically recognized and is clinically proven, with independent studies of over 40 years of scientific research and support.
The Aduro is for skin rejuvenation; it will not darken or tan the skin.
How can I pay for my Order?
We want to make your customer experience with Aduro UK the best you have ever expereinced in your life! To do this we want to offer you as many options as we can.
You can process your order in the following ways:
Online Shop – Paypal | Visa Debit Card | Credit Card
What is the difference between LED anti-aging Collagen stimulation and taking Collagen supplements?
The Aduro facial masks kick start the body to naturally produce new collagen and is clinically proven and medically recognized.
Collagen supplements may not work as desired because they are incapable of absorbing themselves in the complex matrix of collagen that exists in our body.
Collagen is taken by a lot of people to strengthen bones and tendons, while some users taking them for younger looking skin.
What are the benefits of using the LED facial mask?
The Aduro facial mask is a safe and natural treatment, which has a vast range of benefits to the skin. Benefits include the improvement of skin tone, reduction in fine lines, wrinkles and age spots. The results are that aged skin is firmed, rejuvenated and more even – for younger looking, rejuvenated skin.
No pain and no chemicals
Increases the production of collagen and elastin fibres
Firms aged and tired skin
Smoothes the skin and reduces wrinkles
Smoothes the skin and reduces cellulite deposits
More even skin coloration and complexion
Increases moisture retention
No negative side effects or harm
Increases the bodys natural rejuvenating processes
Why does our skin become aged?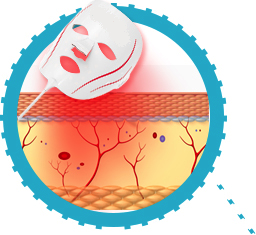 As we get older we lose the amount of Collagen and Hyaluronic acid within the skin. The loss of these components in the skin makes the skin susceptible to damage and wrinkling. By restoring the Collagen and Hyaluronic acid within the skin, the body is able to restore hydration, strength and reduce signs of ageing.
.
Should I use cosmetics with a treatment?
T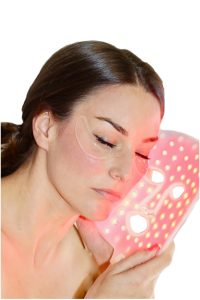 he Aduro facial masks are designed to be used with your favorite cosmetics. We recommend using our deeply nourishing and hydrating transparent Collagen masks with your facial light treatment for amplified results.
Our Collagen masks are light and gelatin based masks that are instantly hydrating packed with Vitamins for deeply nourishing effects for all skin types.
When is light therapy not suitable for my skin?
Light therapy treatments are non-invasive and are intended not to produce any thermal damage or pain.
Some people are sensitive to light and as such need to be aware of any signs that may indicate this.  If you experience any problems or concerns such as uncomfortable heat from the wearing the mask, prolonged redness of the skin, swelling, itching or severe headaches during or after the treatment, these are all indications of sensitivity to light in which case you would want to discontinue the treatment immediately. These side effects rarely occur and usually subside within 24 hours of discontinuing the treatment.
if you do not experience these symptoms when exposed to natural sun light outside, it is unlikely you will experience these symptoms when using light therapy.
Herbs and over the counter medications such as psoralen and St. John's Wort can also cause sensitivity to light so it is important to be aware of any medications or herbs you are currently taking.
Light therapy treatments may involve risks of complication or injury from both known and unknown causes as with all beauty treatments individual results will vary from person to person.
Are there any medical conditions that mean light therapy is not suitable for me?
Light therapy is not for everyone. Specific medications or conditions can cause a person to develop sensitivity to light. The following questions are intended to help determine if light therapy is the best choice of treatment for you.
The diagnosis of some medical conditions may mean Light therapy is not suitable for you. It is important to always check with your medical practitioner / Dermatologist prior to starting any new skin treatments.
Have you had/have any of the following medical conditions:
Acute or Cutaneous Porphyria | Lupus Erythematosus | Thyroid Disease | Photophobia | Exogenous Eczema | Epilepsy and Seizures | Hypomelanism (albinism) | Skin Cancer | Eye disease/retinal abnormalities | Heart trouble/pace maker | Diabetes | Conditions requiring blood thinners.
*If you answered yes to any of the above conditions or you are unsure if you are a suitable candidate for light therapy due to existing skin conditions, please consult your doctor / medical practitioner to discuss your specific medical condition and the likelihood of any possible side effects associated with your prescribed medications and light therapy, before starting any light therapy treatments.
Clients with Skin Cancer (any type), using the medication 'Auranofin' for Arthritis or Pregnant are not suitable candidates for using light therapy.  If unsure please consult with your medical practitioner to discuss your skin care options.
Can I use my light therapy mask while pregnant?
Pregnant and breast feeding mums should always check with their doctor before starting any new skincare regimes. As there are limited studies on the use of LED light therapy during pregnancy and breastfeeding you may wish to wait to use LED light therapy sessions after this special time. If you are currently pregnant or planning to become pregnant in the next eight weeks we recommend consulting with your doctor as you may not be a suitable candidate for light therapy.
Other
We encourage you to research the many wonderful benefits of light therapy to the face and body in making your decision to start your LED light therapy journey.  A great place for you to start would be online resources including clinical studies as well as online search platforms such as google | bing | yahoo that can help you understand the many wonderful benefits of using different colour light wavelengths as well as any medications or conditions that may preclude you from being a candidate for light therapy prior to purchasing your device.
Warranty & Returns policy 
We offer a full replacement/repair guarantee with our 12 month manufacturers warranty for all Domestic & International sales from the date of purchase, please retain your receipt as proof of purchase. In the case of product replacement/repair, the warranty period remains in line with the Original Purchase date. Our warranty does not cover general wear and tear, water damage, modifications, misuse or any damage caused by the user that would make your device unfit for use. There is no extended warranty period on a replacement product. It is the responsibility of the user to ensure they have read and understood the terms of use, FAQ and are aware of their own personal circumstance by conducting independent research or discussing with their doctor to ensure light therapy is suitable for them prior purchase. We action warranty replacements/repairs as quickly as possible, however due to periods of high demand we reserve the right for up to 14-28 business days from receipt of warranty unit. We are not required to provide a refund if you change your mind, please make your product selection carefully. Due to our strict infection control protocols, for the protection of our customers, all our products come sealed. Once this seal is broken/opened and the product is used, we can not accept returns.
Legal disclaimer:
The content provided on this website is for informational purposes only and in no way intended to substitute the professional medical advice given by a physician during an in-clinic consultation and examination. Any photographs/illustrations on this website cannot be copied and reprinted in any way without written permission from Aduro UK.